WIAW Wk06
Welcome to a What I Ate Wednesday. My internet has been down so it will be a quick one I am afraid. Here are the shares of what I ate yesterday.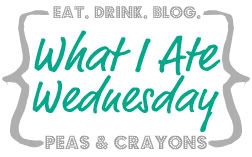 I started out with my favourite....banana and peanut butter on wholemeal toast.
After going to a few meetings it was quite late, and I had this fruit pot handy so thought I would munch on that before I got back to the office for my lunch. It was a bargain I picked up the day before at asda for 20p and didn't contain melon (yuk).
For lunch, I had another bargain find of a prawn layered salad for 20p. I shared it with my boyfriend and added some extra cucumber and spinach. It could have done with a little more flavour but who can complain when it was such a bargain?
An afternoon snack were some homemade healthy cookies I made at the weekend. They have wholemeal flour, oats, honey and tons of dried fruit. They are a bit gooey and just as tasty a couple of days after making them as they were straight out the oven.
For dinner, we had mackerel, which I had never cooked before. I put it in a leek pasta bake with a little mozzarella on the top. The mackerel was smoked and peppered which gave the pasta it's own lovely flavour. To top it all off...there was enough for lunch the next day!
To finish off the evening, my boyfriend and I snack on a few chocolates he had bought me. Yum.